Here are my top five reasons for selling seedlings:
5) Earn some money to finance your seed-buying addiction.
4) Meet new people who are gardeners and farmers in your area.
3) Provide plants grown from high-quality (and often localized) seed that you know is good stuff.
2) Satisfy your curiosity re: what people prefer to grow and why.
1) Talk about plants ALL DAY LONG!
Here's how you do it
Step One: Purchase great seeds. If you've read any of my blog posts, you know I prefer seeds from Johnny's Selected Seeds and San Diego Seed Company. The former produces seed for commercial growers (whose livelihood literally depends on those seeds producing amazing plants, veggies, flowers, etc.); the latter ensures abnormally high germination rates and locally adapted seed for the American Southwest. This means the seeds and plants grow really well in our area versus, say, Washington State or Maine.
One fun part of selling seedlings is introducing people to your favorite varieties and curating a great collection. My seedlings this year consist of about 50% varieties I've grown before and 50% new-to-me varieties. Some of my old favorites are Dunja Zucchini, Slick Pik Yellow Squash, Jaune et Verte Scallop Summer Squash, Jarrahdale Pumpkin, Red Kuri Winter Squash, Citrine Tomato, San Marzano II Tomato and Purple Opal Basil.
This year I'm excited to try out several new tomatoes, including Artemis, Edox, GinFizz (I had to wait two months for a pack of 15 seeds) and Yellow Brandywine (even though the catalog said these are fussy tomato plants). I'm also excited about Queen Red Lime Zinnia, Pink Ellagance Lavender (lavender with pink flowers!), Blaze Pumpkin, Long Island Cheese Pumpkin and Musque de Provence Pumpkin. Finally, I'm trying my hand at growing some melons, like Sarah's Choice Cantaloupe and Cal Bush Watermelon. Over time, you'll have your favorites and will get to enjoy sharing these delights with others.
Step Two: Get organized. Seedlings take various amounts of time to germinate and mature. So, for example, if you have a sale date scheduled for May 22 and you want to sell a variety of vegetable and flower seedlings, you'll need to do some math on what to start when. When I researched this topic, I found that some seedling sellers planned to let their tomatoes grow, for example, for 10 weeks from their seed-planting date before selling. I found this to be too long. By week 8 my tomatoes had to be transplanted into these bigger pots pictured below.
It may be that growing seedlings in Southern California is a little different, especially since mine start in our sun room, where temperatures are pretty moderate and sunlight is plentiful. Here's a list of approximately how long I go from seed-starting to plant being ready for sale, ordered shortest to longest amount of time.
Cucumber: 4 weeks (BTW I usually package 2 cucumbers per 3.5-inch pot)
Pumpkin: 5-6 weeks
Summer Squash: 5-6 weeks
Melon: 7-8 weeks
Tomatoes: 7-8 weeks
Strawflower: 7-8 weeks
Winter Squash: 7-8 weeks
Zinnia: 7-8 weeks
Pepper: 8-9 weeks
Basil: 10-12 weeks
Lavender: 24 weeks
Going back to our example of a May 22 sale date, you can see it's too late for peppers, basil and lavender. I'd plan melons, tomatoes, winter squash and zinnia now and do summer squash and pumpkins next week, followed by cucumbers.
Another part of getting organized is getting your materials together. Here's a list of materials I use.
Seed-starting mix: Sungro Propagation Mix (sold at Grangetto's)
Potting mix (for when you transplant seedlings into pots): Sungro Professional Growers Mix #1 (also sold at Grangetto's)
High-nitrogen liquid fertilizer (for baby seedlings' first feeding after the first set of true leaves appear): Fish emulsion (diluted) or Fox Farm Grow Big (note this is NOT organic. It has non-organic urea, for example. Since my seed-starting mix is already sterile, I'm not worried about killing microorganisms with non-organic fertilizer. However, once I switch to a potting mix I switch to Garden & Bloome Organics all-purpose fertilizer so I can start to support microbes in the soil).
Balanced liquid fertilizer (for second feeding and beyond): Garden & Bloome Organics All-purpose Fertilizer
3.5-inch pots: You can find these on Amazon. By the way, these are not Amazon affiliate links, as I have no idea how to do that yet.
Non-woven material pots: You can also find these on Amazon. I have had trouble figuring out the right dimensions, but generally a 6 x 6-inch little grow bag will create the equivalent of a 3.5-inch pot
Plant markers/tags: Yup, Amazon.
Plant marker pens: The best I've found (that don't wash off, fade off, etc.) are from Johnny's Selected Seeds.
Seed-starting trays: Bootstrap Farmers 50-cell seed trays and 1020 under trays
If you're not broke by the time you've purchased all of this equipment, not to mention any heating mats or LED grow lights, you can proceed to step three.
Step Three: Grow your seedlings. Read and bookmark this blog post on successful seed-starting. You'll get the hang of it in no time.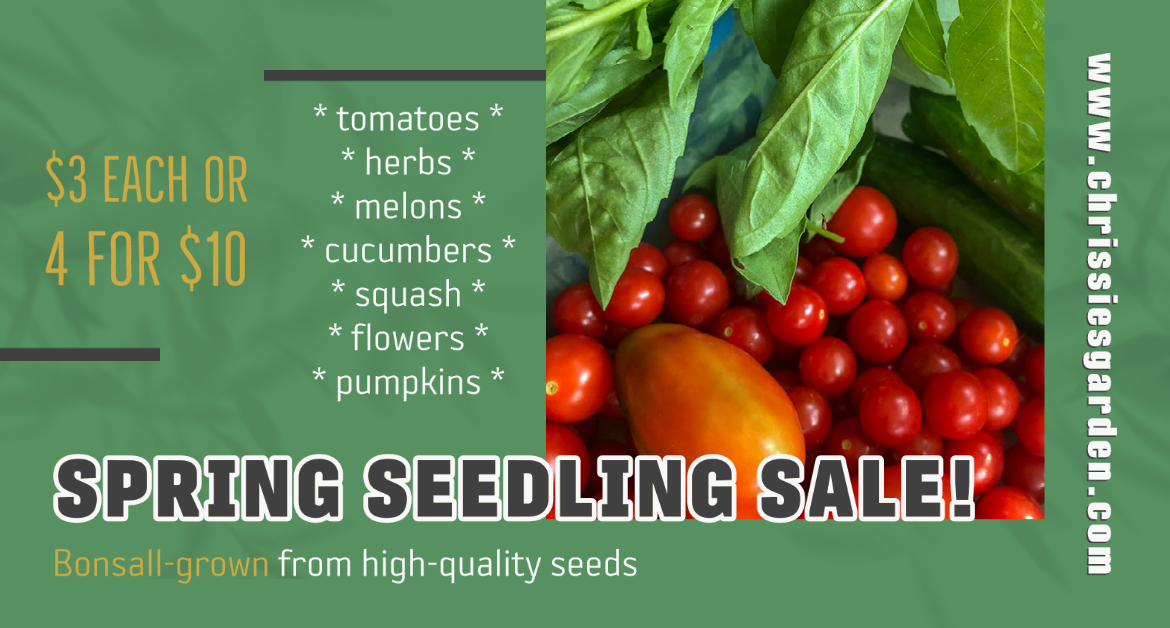 Step Four: Advertise your seedling sale and sell. There are two basic strategies I have for marketing, and I really keep it simple here.
Set a date for your seedling sale and advertise on your social networks. I posted a little ad in a couple of neighborhood Facebook groups for my area. If I really wanted to advertise, I'd put something on Next Door as well, but I try to stay off it as Next Door can be pretty toxic around here.
Let your friends know. I've developed relationships with people who have begun to know me as some crazy seed lady who produces high-quality seedlings. So, they order right off my site because I put up descriptions of what I have for sale as well as an online order form. I kind of geeked out here and created a database where I could track inventory, so people can see not only what I'm growing this season but what's available at the moment. If you're interested in a copy of that Airtable database, let me know.
I decided to try a two-hour seedling sale last Saturday afternoon from 1 to 3 pm. I had more than 100 seedlings and sold all of them at $3 each or 4 for $10. About 8 or 9 parties came and a few of them bought a LOT of seedlings. This may be helped by the fact that I'm in a semi-rural area where some people have big gardens. It means less dense population (fewer people to come to my sale) but more plants per sale.
Since this was an experiment, I had a back-up plan, which was to see if a local feed store would want to sell my seedlings on consignment. I may still opt to do that later in the season.
Now the money part
So, how much did I make? I actually didn't count what was in my cash envelope before Saturday's sale (I don't have exact numbers for that one event), but I do know that between the seed-starting workshop and the two-hour seedling sale last Saturday I've sold a little more than $400 in seedlings. Yay! And it was fun.
Now, I reveal the fact that this year I've spent $391.49 on seeds this year. Yup. And, we haven't included the cost of the 3.5-inch pots, propagation mix, fertilizer, etc. But…we said the whole point is that I'm funding my seed-buying addiction and so I did it! I earned more in seedling sales than I spent on seeds. And, it's still March and I'll be doing a lot more selling, hopefully offsetting the cost of other supplies.
Which is good, because I just spent $44.34 on more seeds.