My Top Picks for Our 2023 Garden
And the winner is…
Here are my top picks from 2022, plus a promising few new varieties I'll be trying this year! Please let me know what you love and are planning to grow because I want to know!
Note that at the bottom of this page, I'll be showing what seedlings I'll be selling. There are some items that I'm selling that I won't be growing because, for instance, I don't need to grow Citrine and Sungold tomatoes as they're very similar. I'll grow Citrine, but people who come to the seedling sale will be looking for Sungold.
Generally, I've listed items from most to least favorite. So, for example, Apple Yellow Tomato is my favorite and Tasmanian Chocolate my least. That said, these are all varieties that made the cut. Tasmanian Chocolate is actually an insanely productive variety that produces gorgeous tomatoes in a very compact dwarf form.
Tomatoes
Apple Yellow Tomato: My new darling. This tomato has such an interesting chewy-gummy texture and a sweet yummy flavor.
GinFizz Tomato: The best-tasting medium- to beefsteak-sized tomato, in my opinion, and my family's favorite. These seeds are expensive (about $1 per seed), but I think it's worth it.
Lucid Gem Tomato: The official winner of the tomato-tasting party (GinFizz wasn't included).
Citrine: Super sweet orange cherry tomato, a continual favorite of the family.
Cherokee Purple: This always does well in our taste tests and is just an incredible heirloom.
Celebrity Plus: I haven't grown this before but want to see what all the hype is about. Celebrity is a pretty standard tomato that you'll find in big-box stores' garden centers. Johnny's Selected Seeds is offering an improved version called "Celebrity Plus" that I'd like to try.
Brad's Atomic Grape: I grew this once before due to all the hype and thought it was kind of a spindly ugly plant. But since San Diego Seed Company is offering it now for 2023, I thought I'd give it another try. Also, I ate a few while I was photographing the tomatoes for San Diego Seed Company's seed packets and website, and I had to admit they have a unique and appealing taste.
Verona: A nice saladette tomato, very productive.
Tidy Treats: The best container tomato I've found.
Tasmanian Chocolate: My favorite dwarf tomato. I'd still not a dwarf tomato convert, though every year I try to be. Yes, they can be super productive and compact, but I don't think their flavor matches the larger indeterminate vines.
Peppers
Cornito Rosso: Always the hands-down winner in our tasting contest.
Aura & Glow: Yellow and orange peppers that produced really well and tasted delicious. In addition, these have over-wintered well, so I may not need to plant seedlings, as these guys will likely just come back in spring and continue to produce.
Cucumbers
Carosello Leccese: I photographed these for San Diego Seed Company's packaging and website and noticed they were insanely productive. On their Ramona farm, these guys were growing like crazy. I'm excited to try them this year!
Mark it 8 Dude: This is another variety from San Diego Seed Company, a pickling variety. For some reason, I don't have the greatest success with growing cucumbers, but these have always pulled through beautifully.
Diva: These cucumbers from Johnny's are so pretty, and they've grown fairly well in my garden before.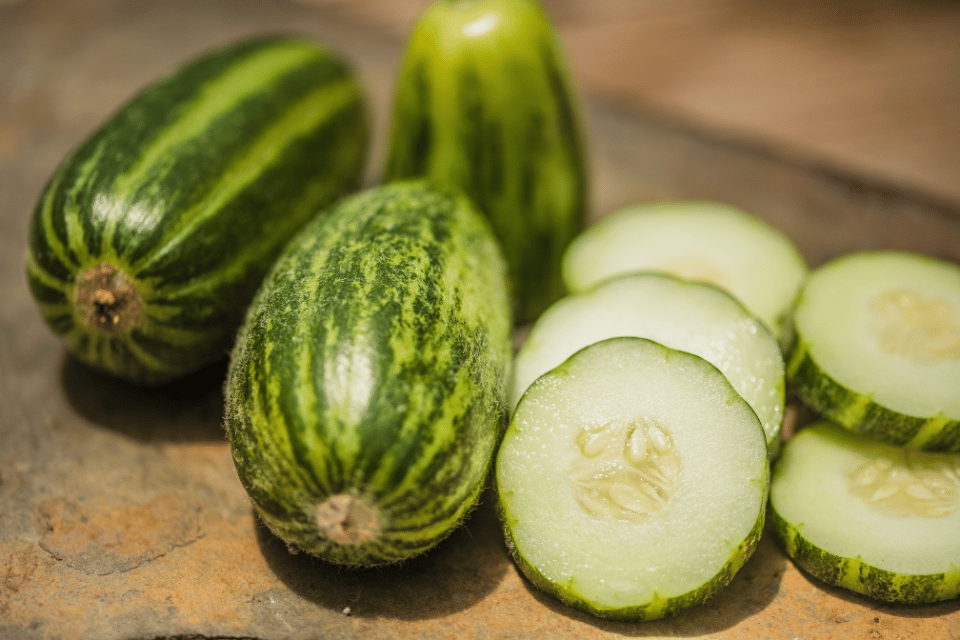 Summer Squash
Dunja: These are the most perfect zucchini you will ever find. This means they have beautiful fruits, healthy foliage, disease resistance, super productivity and open spines that make them easy to harvest. I was watching a YouTube Live video of You Can't Eat the Grass for "members only" (patrons like me), and those of us in the chat got into a conversation about Dunja and started calling ourselves The Cult of Dunja.
Jaune et Verte: Probably my other favorite summer squash. Great flavor, a gorgeous shape and the perfect size.
White Scallop Bush: Another patty-pan-shaped variety that I love.
Slick Pik: This is similar to Dunja in that it's so easy to grow and super productive.
Sunburst: I sold some seedlings last year but didn't get to plant these in my own garden! I'm curious to see how they do. I probably don't need more patty-pan squash, but I just love their little shape. In fact, I almost always grow too much squash, but I kind of like that.
Magda: This is a new one for me but something Johnny's has been offering and growing for several years. I'll keep you posted.
Winter Squash
Red Kuri: These have given me so much joy over the years. They grow vigorously and gracefully over wire arches throughout my garden, creating shade and fruit at the same time. I feel like they're an iconic part of the garden.
Goldilocks: I haven't grown these yet but am excited to do so. They're 4×4 inch acorn squashes. Since these are compact bushes, I probably won't be weaving them up over arches. But that's okay, as I'm really doubling down on the Red Kuri all over the garden.
Pumpkins
Blaze: Gorgeous and productive. These are the orange-and-yellow striped pumpkins I've been growing for a few years now. They're decorative and delicious.
Jarrahdale: An heirloom, deeply ribbed blue-green pumpkins.
Winter Luxury, Rival and Pipsqueak: Three Johnny's varieties that I've offered at seedling sales but have yet to grow!
Note that I haven't included any flowers or herbs in this list. I'm definitely growing them, but that list is almost longer than this–perhaps for another post. I also have several varieties of garlic and onion already planted in the garden that will mature sometime this summer.
As for what I'll be selling, you can check that out here: 2023 Seedling Sale
Seed-starting is already underway on the beautiful redwood potting benches Todd made for me. I hope to see you this spring!