I've been watching YouTube videos on flower farming lately, partly because each year, I seem to be adding bed space to expand my catalog of cut flower varieties. Last year, I had fresh blooms in the house weekly from May to November.
In watching these videos, I'm seeing some trends and learning. One of my favorite videos is from the You Can't Eat the Grass and Flower Hill Farm channels, where two flower farmers name their top 10 most profitable cut flowers.
They evaluate the flowers on several criteria, including:
Price of seed versus price per stem
Ease of growing
Speed from seeding or planting to bloom
Abundance of blooms
Ease of harvesting
Market demand and popularity
While I won't sell my bouquets at the market, I'm still interested in these farmers' perspectives, especially on ease of growing, abundance of blooms and ease of harvesting. I'll give you a quick re-cap and add some of my thoughts from a rookie flower farmer growing here in Zone 10a.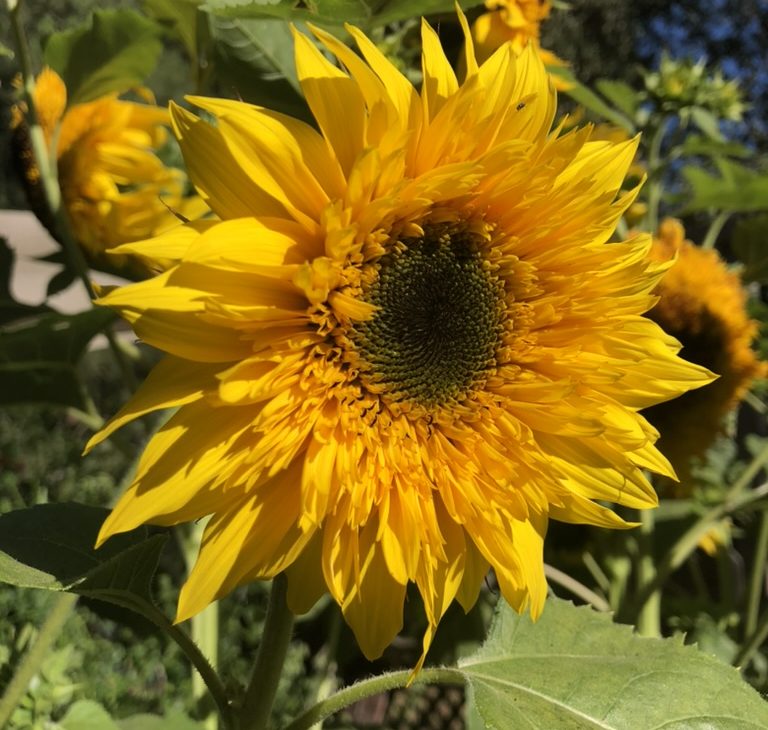 #1 Sunflowers
Nicole at Flower Hill Farms in upstate New York hosts Bouquet Bars at her flower farm, inviting people to assemble their own bouquets from her selection of cut flowers. I think this is a brilliant idea, by the way, and if I can get this little plot growing enough flowers, I may try the same. Anyway, Nicole says sunflowers are always the first to go at her Bouquet Bars and she sells them at three stems for $5.
She adores six varieties, four of which are from the ProCut sunflower line: ProCut Orange, ProCut Plum, ProCut White Lite and ProCut White Nite. She also loves Double Quick Orange and Red Hedge. All these varieties are pollen-less, which is great for bouquets and home interiors but not for bees. They don't hurt the bees, but they don't provide pollen, so I intermix these sunflowers with pollen-producing blooms.
They're also single-stem varieties, so they produce one sunflower and are done. The advantage of single-stem sunflowers is that they grow fast. The challenge is, if you want them throughout the summer, you need to succession plant a new batch every few weeks.
Also, a tip: Plant your sunflowers six inches apart. Most seed packet directions will say to plant 12 inches apart. That's cool if you want giant sunflowers with tree-trunk stems (which make nice bean poles by the way). But if you want bouquet-sized sunflowers (which are still quite large), plant them six inches apart. Tree-trunk stems don't fit in most vases.
By the way, I've grown the ProCut series and agree they're gorgeous. I love White Lite. We also love Double Quick Orange and a multi-stem variety called Starburst Greenburst DMR.
#2 Zinnias
I agree with Serena from You Can't Eat the Grass on this selection. By the way, she farms in western Canada and her shows are fun to watch.
To me, zinnias are a workhorse for bouquets. They're easy to grow. You can direct seed or transplant them. You can cut a lot, and they keep going. They also have an incredible range of colors and styles. I love the Queen Red Lime in the Queen series and the Gold color in the Benary's Giant Series. This year I'm trying even more colors from both series.
I've also purchased Zinderella zinnias before but learned from a Floret Farms blog post that these don't do as well in our Southern California climate. Instead of double blooms, they mainly produce singles, which don't have the same wow as other zinnias.
#3 Snapdragons
According to Nicole, snapdragons are one of the most prolific stems at her flower farm. She also likes that different varieties have different bloom times, including early spring, early summer, late summer and late fall. She plants about 250 and gets thousands of stems, up to seven cuttable stems on one plant.
Note that it's essential to pinch snapdragons, meaning when the first flower bud forms, you remove it so the plant branches out below to produce more stems and blooms. This is a good practice for many flowers, including zinnias.
I've planted a few snapdragons from the Potomac series and have been very happy with them. I'm going to try more.
Here are a few tips on Snapdragons:
Snapdragons require light to germinate, unlike most plants you grow from seed. I'd suggest planting the seeds on top of the seed-starting mix and then spreading a very fine layer of seed-starting soil, sifted through a strainer, on top. And then bottom-water the tray.
Johnny's Selected Seeds has a wonderful tip sheet on which varieties do best in which seasons. Typically, snapdragons are a spring and fall flower in Southern California, though I may be tempted to try and grow Johnny's summer varieties under shade cloth in summer this year. I have a few areas of my garden that are a little cooler.
Harvest snapdragons when the bottom one-third to one-half of the florets are open. That way, you'll get lovely blooms and good vase life.
#4 Amaranth
This is one of Serena's favorites because it's easy to grow and produces an early harvest. Amaranth is also incredibly drought-tolerant and thrives on neglect. It's excellent for providing texture to bouquets and a colorful filler. I'm planning on growing amaranth this year and am excited!
#5 Lilies
Nicole listed lilies as one of her favorite cut flowers and plants 750 annually on her flower farm. She notes they must be protected from deer—not a problem here. She says it's hard to fill bouquet CSAs all summer and fall without them.
I've never grown a lily, and although lilies are gorgeous, I think I'd instead rely on sunflowers and zinnias, which I know are easy to grow. Also, lilies are toxic to cats, and we're trying to encourage the strays to stick around. I've named them "Good Kitty" and "Good Kitty Too," and in the upper pasture I've provided them with a fancy little doghouse with stairs and a balcony for them to enjoy when they're around.
#6 Liatris
According to Serena, liatris requires very low labor and is quick to harvest. She uses these flowers for about seven weeks of bouquets. She notes that they continue to do well when snapdragons start to struggle with the heat. She also uses them for dried flowers.
I've never grown them and think I'll hold off on trying as their look doesn't excite me.
#7 Gladiolus
Nicole said gladiolus was a game-changer for her during the pandemic. She purchased between 2,500 and 2,800 corms and succession planted over five weeks, making them harvestable for seven weeks. She purchased 500 corms for $75 through a wholesaler, and some corms produced two stems of gladiolus. She sold three for $5, and they were always sold out at the Bouquet Bar. She invested $75 and made $800.
I've never grown gladiolus either and may try next year to grow from corms.
#8 Rudbeckia
Now we're talking. Serena chose rudbeckia as a favorite, and I must agree. Last year, some of my favorite bouquets included rudbeckia, which has the biggest, cheeriest blooms on big bushes with tons of flowers. These plants thrive in our climate and are always blooming and growing.
This year I'm trying a deep-red variety called Cherry Brandy and an interesting variety called Prairie Sun, which has yellow leaves that become orange as they move toward the center, which is a pale green. I will also grow the classic Indian Summer, which produced beautifully last year.
#9 Gomphrena
I think Nicole put this one on the list. Serena recently released a video saying she's drastically reducing the amount of gomphrena she grows because they are time-consuming to harvest. A lot of flower farmers feel the same way about cosmos. You do a lot of work for a tiny but cute filler flower.
But as of this video, Nicole has listed gomphrena since they produce many stems and provide beautiful pops of color. I love white gomphrena in bouquets of blush and peach roses with a few sprigs of green herbs. Gomphrena has a very delicate look and texture, and Nicole remarks that these are one of the most talked about flowers at the Bouquet Bar. People want to touch them. They're also cheap to grow—you can grow an entire bed for a few dollars.
#10 Weeds
This is a classic Serena response. She likes to forage around their acreage on the West Coast of Canada. She uses everything from cherry tree branches to wild-grown catmint to add interest to the bouquets she sells at a local farmers market.
She cautions that if you follow her lead, you need to experiment with the vase life of various materials. Also, you won't have control over how these weeds are grown, meaning you don't know if your neighbors' land has a ton of pesticides that have made their way into the plants.
I like walking around our yard, looking for things to add to bouquets. Luckily, we have some ancient eucalyptus trees and a lilac tree. I also clip lavender, marjoram and rosemary stems since we have an abundance.
In addition to several beauties listed above, I'm growing strawflowers for their gorgeous colors and unique look and several varieties of basil to serve as foliage and filler. Note that it's best to harvest basil when it's flowering to get good vase life. Last year I used several varieties, my favorites being Mrs. Burns Lemon basil, which grows quite tall and is often used for cut flowers, and Thai Tower basil, which adds a slight purple color to bouquets. This year I'm adding Rosie basil, because it's purple and named after my favorite little baby horse.
Let me know what you plan to grow this year and if you have additional tips!